Teeth Whitening: Eliminate Stains & Enhance
the Look of Your Smile
If you cover your mouth when you speak, laugh, or pose for pictures, the color of your smile might be to blame. Yellow or discolored teeth can make your smile look unhealthy, even if you practice good oral hygiene and attend regular cleanings. Dr. Robert F. Hawke has been practicing dentistry since 1976 and is proud to offer professional teeth whitening to help patients regain confidence in their smiles again. When completed under the supervision of a highly trained dentist like Dr. Hawke, teeth whitening is a very safe and effective way to address even deep-set stains. If you have more extensive cosmetic imperfections, our Tucson, AZ, practice offers various cosmetic dental services to address your unique concerns.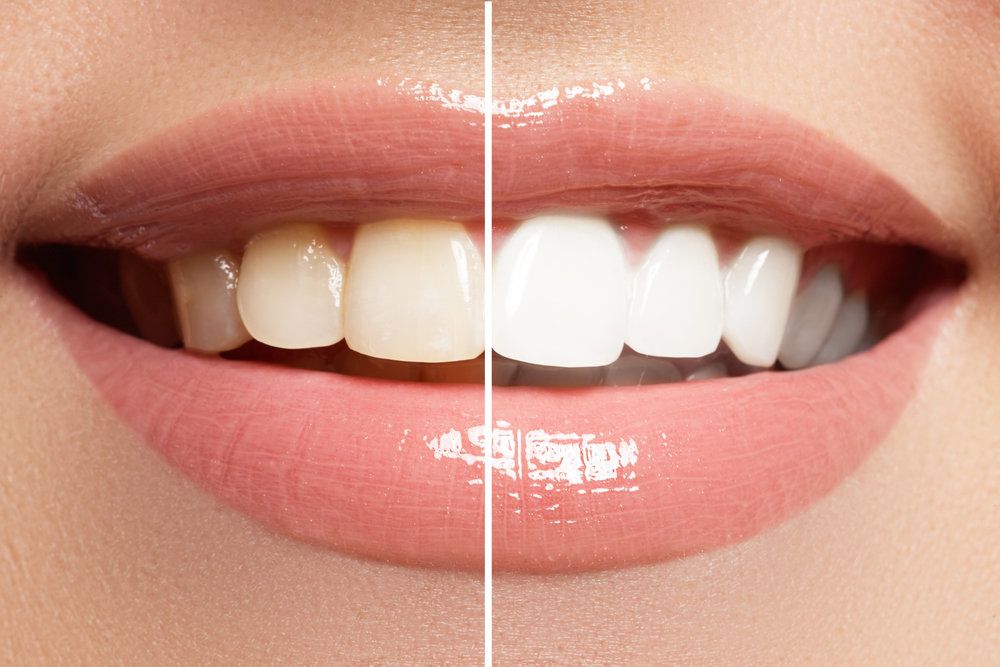 Causes of Discolored Teeth
Teeth can become discolored or stained for a variety of reasons, and pigment can reside in the internal (intrinsic stains) or external (extrinsic stains) portion of the tooth. Intrinsic stains can be caused by certain medications or trauma and are generally rarer. The natural aging process, certain foods, beverages, and habits can stain the outermost layer of the tooth, or enamel. This may be due to:
Drinking coffee, tea, red wine, or soda
Eating foods such as berries and tomato sauces
Smoking or tobacco use
Thinning of the enamel
During your consultation, Dr. Hawke can examine your teeth, determine the nature of the discoloration, and decide whether it can be effectively removed with whitening alone.
Are You a Good Candidate?
In general, you are a good candidate for whitening if you are unhappy with the shade or brightness of your smile. Even if you have sensitive teeth, we can create a custom plan that incorporates anti-sensitivity toothpaste to ensure your comfort. However, it is important to note that restorations such as composite fillings, bonding, or dental crowns will not respond to whitening.
When completed under the supervision of a highly trained dentist like Dr. Hawke, teeth whitening is a very safe and effective way to address even deep-set stains.
If you have more extensive cosmetic imperfections or intrinsic stains that will not respond to teeth whitening, Dr. Hawke might recommend alternative treatments such as bonding or porcelain veneers. Thanks to our in-office CEREC® computer-aided design and manufacturing unit and on-site glazing technology, we can usually deliver veneers in one appointment.
Benefits of Professional Whitening
Although professional teeth whitening uses a very powerful whitening agent, it is incredibly safe. Your dentist will take care to protect your gums and soft tissues from the bleaching solution. In contrast, over-the-counter kits carry some risks. Strips and generic trays increase your risks of irritating or even accidentally lightening your gum tissue. In other cases, patients will simply not achieve predictable or consistent results.
Your Whitening Appointment
In-office whitening takes place in one appointment and usually lasts under an hour. The stages of treatment generally include:
Consultation: Dr. Hawke will evaluate the condition of your smile and identify any oral health concerns, such as cavities or gum disease, which need to be treated prior to whitening. If this is the case, whitening will be scheduled once these issues are resolved.
Preparation: We will thoroughly clean your teeth to remove any particles and debris and place a protective barrier over your gums.
Application: We will then apply the whitening solution to your teeth. How long it remains in place will depend on the current shade of your smile and the level of whiteness you want to achieve. This step may be repeated.
To complete the session, Dr. Hawke will simply remove the whitening gel from your smile and reveal your results. Because professional whitening solutions are much stronger than store-bought strips or other kits, you can experience a dramatically whiter smile in just one treatment.
Boost Your Confidence
Whitening is only a small part of what we offer at our practice. As a highly trained dentist, Dr. Hawke uses the latest technology to ensure the safest, most effective, and most natural-looking results. Schedule your whitening consultation today by calling us at (520) 323-3842 or requesting an appointment online.